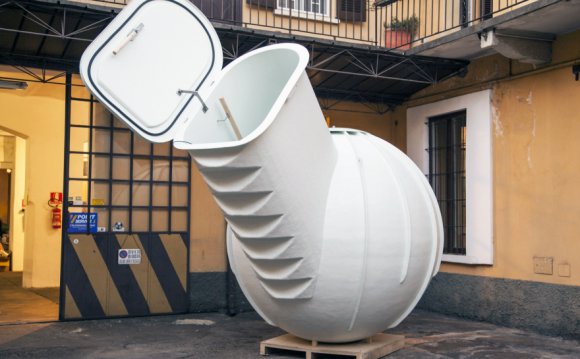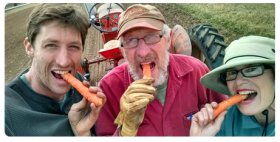 At Food Farm in northern Minnesota, Janaki Fisher-Merritt is getting back to his roots. This second-generation farmer is putting a modern twist on an old-fashioned idea that could help scale up the local food economy in the region. He hopes to build a 3, 700-square-foot root cellar that he says has the potential to keep fresh vegetables—not just root vegetables, but winter squash, cabbage, apples, and other cold storage food—available all winter long.
"Not even pushing it, we should be able to store about 300, 000 pounds [of produce], " Fisher-Merritt said. "It's going to be really nice."
The project is not just about satisfying a craving for local carrots in February. The outsized root cellar, supporters say, has the potential to build local food infrastructure, improve the energy efficiency of agriculture in the region, and act as a model for other farmers with short, northern growing seasons.
"This is an idea that is completely needed, " said Kathryn Draeger, director of the University of Minnesota's Regional Sustainable Development Partnerships program. "That concept of root cellaring is absolutely the next step we need to strengthen the local food system in Minnesota."
Root cellars were once ubiquitous on farms (though on a much smaller scale than what Fisher-Merritt is planning). The premise is simple: A room dug into the earth will maintain a remarkably stable temperature range, even during the winter. It will rarely get cold enough to freeze your potatoes or hot enough to spoil your parsnips. Little, if any, extra energy is needed to keep vegetables edible for months.
Food Farm has had some version of a root cellar since Fisher-Merritt's parents first bought the land in 1988. Looking for a way to improve their winter storage options, they decided to adapt a 5-foot by 9-foot room in the basement, adding insulation and a small ventilation fan to blow in cold air if the temperature crept too high. Despite its modest size, this first cellar could hold over a ton of potatoes and 1, 000 pounds of carrots, Fisher-Merritt said.
"It was a pretty simple design and it worked really well, " he said.
By 2000, however, the tiny room was no longer enough and the farm installed a 24-foot by 52-foot cellar that can hold up to 85, 000 pounds of food. This new version, still in operation today, has a computer-controlled ventilation system and three temperature zones, but remains remarkably energy efficient. While the energy to power a typical walk-in cooler may cost more than $100 a month, this cellar used just $150 in electricity over the entire past year, Fisher-Merritt said.
Now, however, this space is bursting at the seams as well.
"We've been using every square foot we can for storage, " Fisher-Merritt said. "It's a game of Tetris when you go to pack boxes down there—you have to move three things to get one."
So the Food Farm-ers have decided to undertake a massive expansion, more than tripling the footprint of the space, giving their own farm more room and also making the benefits of root cellaring available to the community. Area farmers will be able to rent space in the new cellar, allowing them to offer community-supported agriculture shares into the winter or supply wholesale customers for months longer than previously.
Rick Dalen, owner of the nearby Northern Harvest Farm, has already expressed interest in becoming one of the cellar's first customers. Better cold storage could allow his farm to sell vegetables throughout the winter, offer more stable employment to its workers, and even out its cash flow during normally slow months.
"The amount we can do out of our cooler is limited, " Dalen said. "This would potentially open up something much more significant."
Minnesota is particularly fertile ground for root cellars, Draeger said. The state is very farm-friendly, with rich soil, long hours of sunlight during the summer, and rain-fed fields that require minimal irrigation, she said. But it also has a short growing season that leaves many farms waiting out winter with little business. And an equal number of potential customers wait out the season, wishing they had access to more local food.
Root cellars are a logical way to address both problems, say supporters. Dalen thinks it likely the Food Farm project will spark imitators as fuel prices increase making local food ever more important and the savings the cellars offer even more attractive. Food Farm has already released its construction plans online to give a boost to anyone interested in building a similar cellar.
Draeger, for one, hopes the idea catches on.
"We are seeing a need for larger root cellars—community or regional scale, " she said. "The idea is absolutely spot-on."
Source: civileats.com
Share this Post