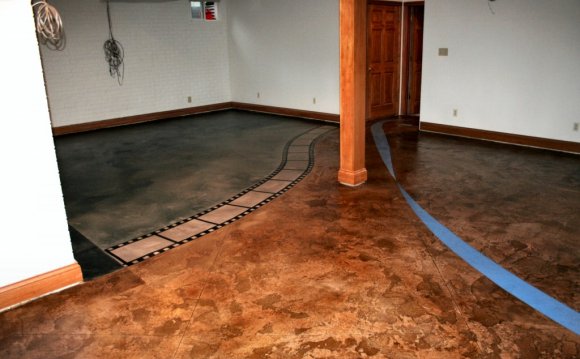 It's also critical to inspect your existing concrete basement floor and make adjustments for any noticeable slopes or flaws that might damage the new floor finish or affect its aesthetic appeal.
Patch or fill minor cracks and flaws with an elastomeric sealant made especially for concrete. A 10-ounce tube runs from about $4 to $10 at home improvement centers.
Use a 3-foot or longer bubble level to see if any sections of the floor slope more than a half-inch in 8 feet. Fill in low spots with a self-leveling compound, available at home improvement centers for about $30 for a 50-pound bag. For about $60 to $80 per day, rent a concrete sander to reduce high spots.
Tile backerboard, made from cement or fiber-reinforced gypsum, can be used as a subfloor over your basement slab to create a smooth, level surface. Backerboard can be glued down or held in place with concrete nails. Backerboard costs about $11 for a 4x5-foot sheet. Allowing for waste, expect to pay about $500 for enough backerboard to cover the floor of a 600 sq. ft. basement.
Once you have satisfied all potential moisture-related issues and created a smooth, level surface, you'll have many flooring choices for your basement retreat.
Carpeting
According to the NAHB Research Center's annual survey of builder practices, more than 28% of basement floors in newly built homes are finished with carpeting. "Most of our clients want carpet in the basement, " says Sherrille Sabo, operations manager for COS Construction in Edwardsville, Ohio, a construction company that remodels about a half-dozen basements per year into finished living spaces. "It's warmer and adds a level of soundproofing."
Low-pile carpets such as Berber or other looped varieties show less wear than cut-looped or shag-like carpeting and are less expensive; all or partial nylon blends also are more durable and less costly than all-natural options.
Wall-to-wall carpeting is among the least expensive and easiest to install options for basement flooring. A mid-range nylon Berber carpet costs about $1 to $3 per sq. ft. With glued-down perimeter tack strips and a standard pad, plus professional labor, the cost to buy and install a new carpet is about $1, 200 to $2, 400 for a 600 sq. ft. basement.
If you've addressed any moisture issues in the basement but are still concerned about dampness or the chances that liquid spills or pet accidents may occur, consider a pad that is made to block moisture from either seeping up into the carpet or seeping down through the pad to the concrete floor. Moisture-resistant pads are about 70% more expensive than standard pads. They may reduce cleanup chores, but they will not solve chronic moisture problems.
Also, consider carpet tiles. Nylon pile 20-inch squares come in a variety of colors and styles and cost $2 to $4 per sq. ft. Most are made with integral pads and self-adhesive backings for easy, do-it-yourself installation.
Vinyl
Resilient vinyl flooring is durable, moisture-proof, and maintenance-free. Sheet vinyl comes in 12-foot-wide rolls that virtually eliminate seams. Self-sticking vinyl tiles are ideal for do-it-yourself installations.
There are an enormous variety of colors and styles from which to choose. In general, thicker vinyl translates to higher quality and cost. Thicker vinyl can feature a textured surface, and some types have the appearance of real stone and wood.
Vinyl installs easily over a concrete slab, but it's critical to make sure the surface is smooth, as imperfections are sure to show through and possibly damage the flooring. A thicker (and more expensive) grade of vinyl flooring may help hide slight bumps in the concrete.
Sheet vinyl and vinyl tile can cost $1 to $5 per sq. ft. Figure another $1 to $2 per sq. ft. for professional installation, depending on the complexity of the basement configuration.
Ceramic Tile
Ceramic tile installs readily over a concrete slab and the many styles and colors available make it a good designer's choice. Properly installed and maintained ceramic tiles should last as long as your house.
In some below-grade applications, condensation may occur on the surface of ceramic tiles, making them slippery. If ceramic tile is your primary choice for your basement but condensation is a concern, consider glazed ceramic floor tiles with an anti-slip finish. Look for tiles that meet slip-resistance standards specified by the Americans with Disabilities Act.
Costs for ceramic tile varies widely, depending on size, shape, and pattern. A standard domestic 12x12-inch ceramic tile might cost 80 cents per tile at home improvement center, while a highly decorative tile from Mexico or a porcelain stone tile from Italy can cost $10 per tile or far more. Professional installation adds $5 to $10 per sq. ft.
Engineered Wood
Until the advent of engineered hardwood flooring, few builders or remodelers would recommend or risk installing a hardwood floor over a below-grade concrete surface. Because solid wood changes dimensions with fluctuations in temperature and humidity, the chances of warping and cracking were too great. In addition, there were few reliable options for installing wood flooring without traditional nails or screws.
Engineered wood floors, however, provide a more stable substrate for the planks while delivering the look and feel of a solid wood floor. They feature a thin veneer layer of solid wood that is laminated to plywood backing. Plywood is more dimensionally stable than solid wood, allowing the planks to withstand temperature and moisture fluctuations without warping.
Engineered hardwood planks are installed one of two ways. Some varieties are designed to be glued to the basement floor using an industrial adhesive. Others are "floated" over a layer of thin foam sheeting; the planks are held in place by a system of interlocking ends and edges.
Engineered wood planks are priced from $2 to $20 per sq. ft. Their factory-finished veneer is virtually maintenance-free. Installation is about $4 to $5 per sq. ft., regardless of whether the planks are glued down or floated.
Laminate Flooring
Laminate flooring has similar construction to engineered wood flooring, but the top veneer is a layer of tough film covered with plastic resins. Laminate flooring mimics the look of wood, stone, and ceramic tile. The core layers of laminate flooring are dimensionally stable; some varieties are treated to resist moisture and make good choices for basement applications.
Source: www.houselogic.com
Share this Post