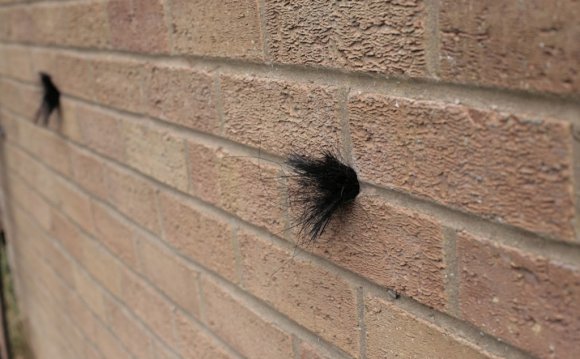 The Government scheme was meant to make homes more energy-efficient but some owners say their bills have increased since having the cavity wall insulation work done
The scheme, funded by a 'green tax' on household gas and electricity bills, was meant to cut emissions and reduce charges by making homes more energy-efficient.
But experts claim that many homes were simply not suitable for 'retrofitting' cavity wall insulation, while others were in parts of Britain where weather conditions should have precluded its use.
Some people have been left suicidal
Millions were persuaded to sign up to the scheme by the promise of cheaper bills from call-centre staff and door-to-door salesmen employed by energy firms obliged to meet Government targets.
A survey of 250, 000 properties by thermal-imaging company IRT found the addition of cavity wall insulation to existing homes had failed to work in a quarter of cases and problems in half the homes it surveyed. Some owners even saw bills rise.
With more than six million properties having had the treatment since 1995, this suggests that as many as 1.5 million are affected.
Campaigners claim some people are suicidal after their properties were left riddled with damp patches and mould as a result of botched fitting, which can take thousands of pounds to put right.
Among the victims are Helen Thomson, from Cornwall, whose farmhouse suffered such serious problems after cavity wall insulation was installed that £30, 000 of repairs are needed.
Helen Thomson shows off the walls at her home in Cornwall which were left damp by cavity wall insulation
And Deborah Wassell, of Southampton, had her insulation removed after furniture went mouldy and her son suffered asthma attacks.
Pauline Saunders, who set up Cavity Wall Insulation Victims' Alliance after problems at her home in Newport, South Wales, said: 'We've been inundated with people whose homes have been ruined. It has got so bad for some that they have been left feeling suicidal.
'Even if half the findings of the study are true, more than a million people's homes will have problems.'
Last month, Ministers published a report which admitted there were 'too many poor-quality installations' by companies which 'do not have the skills required'.
Stephen Hodgson, of the Government-endorsed Property Care Association, said some homes were simply not suitable for the work as their design meant the insulation – which is pumped into walls via holes drilled into the exterior brickwork – acts as a 'bridge' for moisture to cross the cavity into the house.
He said: 'Contractors were desperate to mop up vast sums of money made available by energy firms on the back of Government green targets.'
Under Government rules introduced in 1994, energy firms must help improve the efficiency of their customers' homes, with costs added as a levy to all household fuel bills. The cost is around four per cent on top of an energy bill – equivalent to £47 per year on average.
Experts claim that many homes were simply not suitable for 'retrofitting' cavity wall insulation
Many householders told The Mail on Sunday of difficulties getting compensation from the Cavity Insulation Guarantee Agency (CIGA), which was set up to pay for repairs caused by botched work. Experts also say its £18 million fund is not enough but the agency's chief executive Nigel Donohue insisted: 'Customer satisfaction rates are up.'
Source: www.dailymail.co.uk
Share this Post