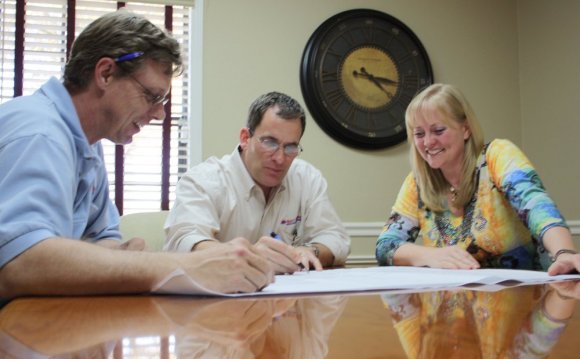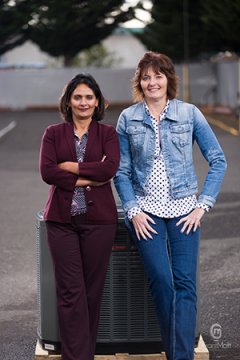 In 1975 Area Heating & Cooling, Inc. was founded by Marlin Tillman. Mr. Tillman built the business by himself and just a few employees while working out in the field installing HVAC equipment. In 1986, through earning the trust and respect of local builders and residents, Mr. Tillman had grown into staffing three separate departments comprising of the service department, retrofit and new construction installation crews. Marlin's business ethic to treat customers and employees with honesty, was a promise to stand behind our work and ensure customer satisfaction. Through his dedication to his business Mr. Tillman was respected by all and had formed a leadership role in the community.
In 1988 Marlin hired Tina Blackmore and Swaran Battan to operate and manage the administration side of his business. Tina, freshly out of high school and Business Trade School, was born and raised here in Clark County. Both of her parents were self employed and Tina was raised on a farm with strong work ethics. Swaran started working at Area Heating & Cooling in her early twenties and was born in the Fiji Islands. Also raised with entrepreneurial parents that owned a local bus transit business, Swaran is reflective of the same strong work ethics as Tina.
Now 40 years later Tina Blackmore and Swaran Battan are the proud owners of Area Heating & Cooling, Inc. We continue to delivering the same exceptional service that was established by our founding ownership. Our guarantee includes that we are serious about offering the 'Area Advantage' and you will not have the "typical" contractor experience. We strive for outstanding customer service at every level and have trained our staff to ensure that every customer "feels the difference" with Area Heating & Cooling. Our goal is to continually strive to serve our customers as the industry leader and provide quality craftsmanship to residential HVAC installations, service and repairs.
Being locally owned and operated, we are honored to bring employment opportunities to over 48+ families in Clark County. Many of our employees have been with Area for 20+ years and most of our staff were raised here in Clark County. Our roots locally are deep and Area Heating & Cooling focuses our business in Clark County and Cowlitz County. This gives our customers the assurance that they will be treated like our neighbor, because you are our neighbor and a family member. We believe in supporting our community and have been a major contributor for Operation Warm Heart a Clark PUD charity helping those limited income families with their power bills during peak seasons. We also sponsor American Lung Cancer Society, Special Olympics, Local Youth Team Sports and Susan B Koman Foundation.

Sincerely,
Tina Blackmore, CEO
Swaran Battan, President
Area Heating & Cooling, Inc.
Area Heating & Cooling, Inc has been providing quality craftsmanship of residential & commercial HVAC installation since 1975. We are licensed, bonded and fully insured with all factory-trained technicians. We offer 24-hour emergency service and guaranteed satisfaction.
Providing home comfort for people is our top priority. As a team of heating and cooling professionals, we are committed to continuing our tradition of providing high quality, cost effective home comfort for our customers and their families in Southwest Washington/Cowlitz County area.
We will respond to the comfort needs of our customers in a caring and timely manner. Through listening, consultation and design, we will help out customers in choosing their own comfort system to meet their needs and wants.
As an independently owned and professional group, we are dedicated to building a stimulating work place setting based on team work and mutual respect within our organization. Therefore, out internal communications are to mirror that of our relationships to our customers.
Our goal is to continually strive to serve our customers better than anyone else. It means we must constantly be aware of our everyday actions, solicit constructive feedback from out customers and maintain an attitude of commitment to improvement.
Operation Warm Heart
Since its creation, Operation Warm Heart has provided about $2.5 million to more than 11, 000 low-income families in crisis situations who needed help paying their electric bills.
These people were barely making ends meet, but they didn't qualify for other government programs that could help them pay their winter heating bills.
For more than 20 years, Clark Public Utilities customers have generously funded Operation Warm heart. Those contributions - plus interest generated- provide a perpetual source of funding to help low-income families in crisis.
Source: areaheating.com
Share this Post