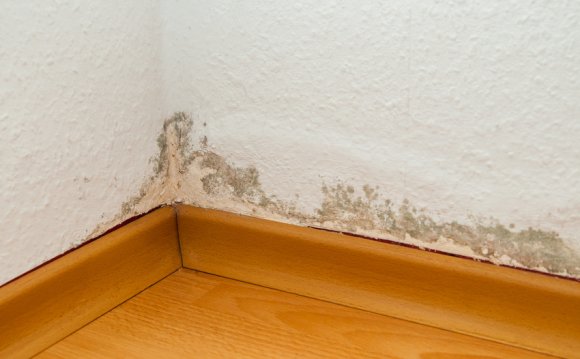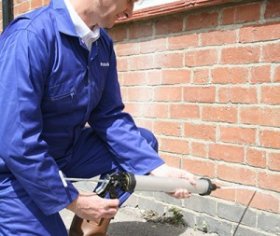 What is damp proofing?
Damp proofing is a protective process to ensure moisture cannot pass through the walls of a building to the interior. Damp proofing places a barrier in walls which prevents rising damp, with other methods available to prevent problems prevalent in modern homes. Using a Peter Cox domestic damp specialist to eliminate damp problems in the home can also eliminate the possibility of future damp-related problems such as wet rot, dry rot, and mould.
Damp problems
Rising damp is unhealthy, unsightly and can lead to timber decay and heat loss. It carries with it hygroscopic ground salts such as chlorides and nitrates, which can absorb moisture from the atmosphere, leading to damp in walls in conditions of high relative humidity.
The cyclical nature of the crystallisation and rewetting of these salts can break down internal plaster and ruin internal decorations.
What causes damp?
Installing a DryWall remedial damp proofing course
What appears to be rising damp can be due to various factors – the failure of an existing damp proofing course (DPC), bridging due to the raising of external ground or internal floor levels, or in older buildings, the complete absence of a damp proofing course. Damp in walls may also be due to condensation or an incorrect re-plastering specification. Other factors such as failed rainwater disposal systems have to be taken into account.
If you suspect your home has fallen victim to damp problems, call a Peter Cox damp surveyor, who will inspect your home, give you an accurate diagnosis and inform you of the best course of action and which kind of Peter Cox damp proofing service would best suit your needs.
Contact us on 0800 030 4701 or fill out our to book a free survey.
Damp proofing your home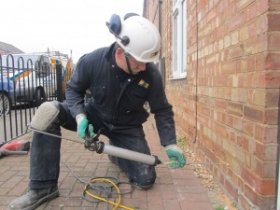 Where rising damp is diagnosed, Peter Cox will install a remedial damp proof course using their DryWall Silane Diffusion system, the very latest in damp proofing technology.
This involves the introduction into the wall of a concentrated thixotropic silane/siloxane 'cream' to form a barrier against rising damp. As the cream slowly diffuses, it also releases a silane vapour which reacts with the silica in the masonry to form a water repellent resin.
No liquid is involved so the wall is quicker to dry out and it is not injected under pressure which means that there are no problems with party walls.
Professional damp proofing courses from Peter Cox
The benefits of choosing a Peter Cox DryWall damp proof course:
Low hazard, non-caustic and solvent free
Non-flammable and virtually odourless
Recommended for brick or stone
Suitable for walls of any type and thickness
For both internal and external use
Can be used on 280mm cavity brick walls
The system carries an Agreement Certificate No 02/3976
The Peter Cox DryWall damp proof course is environmentally friendly and financially efficient – damp walls lose heat a lot quicker than dry walls and using a Peter Cox damp proofing expert to eliminate this problem will save both money and energy.
How to deal with damp in a concrete floor
In principle all concrete floors should include a damp proof membrane across the whole floor area and this should be linked to the damp proof courses in the surrounding walls to provide continuity of protection against ground moisture.
As an alternative, an epoxy resin coating can also be applied across the floor to seal it against damp. Though this can be done in a day, you need to be able to get at the whole floor area up to the surrounding walls meaning any kind of attached units will have to come out. Surface preparation prior to application will be crucial but even so it will be less disruptive than taking up and renewing the floor.
It is important to note that the provision of a barrier against rising damp will only prevent further moisture rising from the ground and that all other sources of dampness must be eliminated as well. Our surveyor will advise you on this.
To book a Peter Cox damp proofing survey from one of our domestic damp specialists, contact us on 0800 030 4701 or head to our homeowners survey page and send us a form from there.
For more information of damp proofing from Peter Cox's damp experts, see below:
We are also accredited by the Property Care Association. The Property Care Association is the premier trade body for the structural waterproofing, wood preservation, damp proofing, flood remediation and structural maintenance industries in the UK. For more information, click here.
Latest Damp Proofing Blog Posts
Click here to view all of our damp proofing blog posts"
What I thought was damp turns out to be condensation. On the advice on (your) leaflets I have bought a dehumidifier which has made a big difference already. Can I just commend your company on the quick response and the help you gave me. I will pass on your details to people if they ask. Very professionally done, not many of you left out there !
Source: www.petercox.com
Share this Post