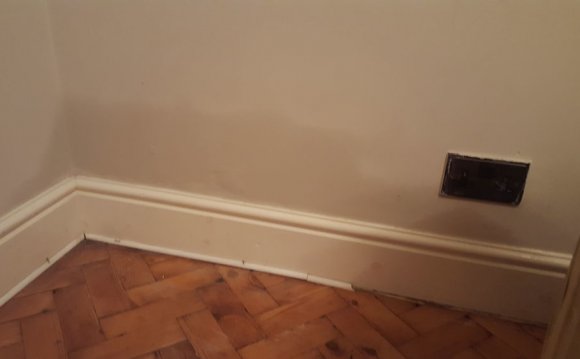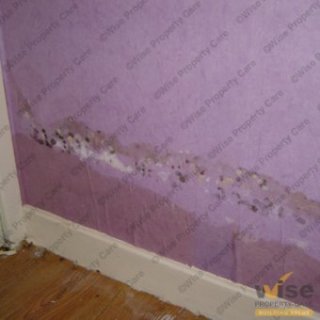 Helpful guide for identifying a rising damp issue
Unsure if you have a rising damp issue? Then our guide below is exactly what you need.
It's understandable that you might not be an expert when it comes to damp problems, however, we do hope the user friendly guide to the tell tale signs of rising damp gives you a good stear for identifing if you have an issue or not. One thing to remember, however, when trying to identify a rising damp issue is that there are many forms of damp that can affect a property. Different damp issues affecting a property will require the approprate damp treatment. If you recognise and relate to the tell tale signs and pictures listed below, then we would suggest you consider rising damp treatment as early as possible. As with most damp problems, the longer you leave rising damp, the more expensive it can become.
Tell tale signs of rising damp
Without using any equipment, you can use certain visual and touch signs to help identify rising damp. Typical signs that can identify rising damp include:
Tell tale sign 1 - Tide marks and damp staining
One of the most common tell tale signs are tide marks left on walls. Tide marks are caused by evaporation and salts from the ground. You will normally notice them anywhere up to a 1 metre above the skirting board.
If you do not notice tide marks, another very common tell tale sign is damp patches or staining. Typically, these damp patches are yellowish or brownish in colour and similar to tide marks, you will notice them up to 1 metre above the skirting board.
Rising damp signs - tide mark inside
Rising damp signs - tide mark outside
Rising damp signs - staining
Tell tale sign 2 - Peeling wallpaper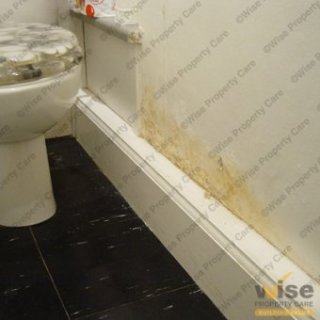 Look out for wallpaper coming off or peeling from the wall. You will most likely notice it coming loose from the skirting board first with the corner of the wallpaper turned or curved up
Rising damp signs - peeling wallpaper
Tell tale sign 3 - decayed skirting boards
As with many forms of dampness, rising damp has the potential to cause rot within timbers it comes into contact with. Look out for skirtings that are cracked, easily crumble or localised fungus growing on or creeping out of the side. Also, look out for damaged or flaky paint.
Rising damp signs - decayed skirting
Tell tale sign 4 - Salts within the plaster
Salts in the form of white fluffy desposits in the plaster similar to the images below are another clear tell tale sign. These salts are washed out of your bricks and into your plaster leaving what can look like blistering patches on your walls.
Rising damp signs - plaster salts
Tell tale sign 5 - black mould
If you see black mould appearing above your skirting board it is a clear sign that there is some form of dampness affecting the area, especially if you have no other evidence of black mould within the property and the black mould is localised from the skirting board to up to 1 metre above the skirting.
Rising damp signs - black mould
Other practical tell tale signs of rising damp
If the above tell tell signs do not seem to relate to the damp issue you are having but you still suspect rising damp, check the following:
Run your hands around the suspected rising damp area. If you have wallpaper on your walls, you may hear a 'crunching' sound of the salts that have been drawn from the ground
If possible, look at the exposed surface of the brick or stone work. Check to see if there are salts forming, that the brick is actually wet (not just the wallpaper or paint)
It is also important to note that rising damp only occurs on ground floor levels as it is moisture from the soil that is being drawn up the walls and thus causing the rising damp problem.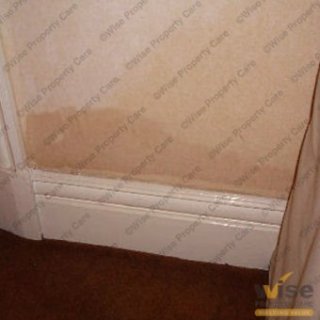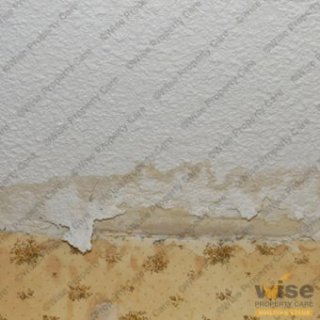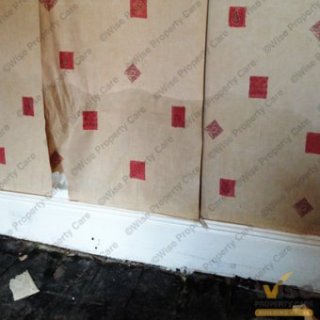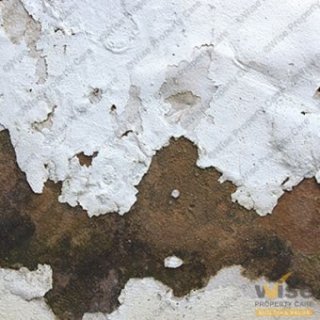 Source: www.wisepropertycare.com
Share this Post