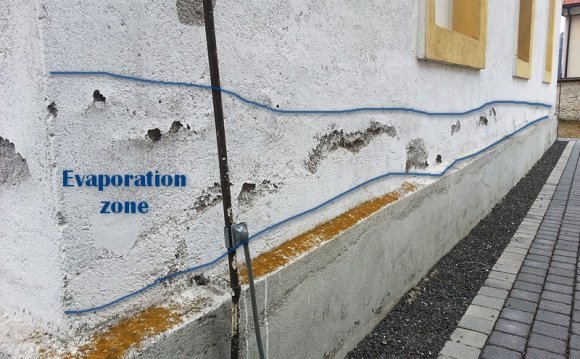 The most common visual symptom of rising damp is a clearly defined band of dampness, starting from the floor upwards – often causing paint to flake or wallpaper to peel. However damp walls, caused by rising damp, can also result in a wide range of other symptoms including:
Damp smells or a musty odour
Reduced temperature at the lower portion of the wall
Rotting of embedded floor timbers
Crumbling or blistered plaster due salt crystallisation
Walls affected by rising damp are also often contaminated with salts that mean it is not possible to just replaster and hope the problem will go away.
Traditional Measures for Preventing Rising Damp
Most modern properties are built with a damp-proof course, usually in the form of an impermeable plastic membrane, which is placed along a mortar line near the ground. Some properties, however, were built with no damp-proof course, or the original has failed, meaning that rising damp can occur and it is necessary to make remedial repairs.
In the past, rising damp was treated using corrosive or flammable liquids, injected under pressure, to block the pores of brick, stone and masonry and create a liquid damp-proof course. An expensive and complex pump system is required to inject the damp-proofing fluid into a wall, along with considerable expertise on the behalf of the operator. It is likely that an inexperienced operator could introduce the wrong amount of chemical into the wall.
Treating Rising Damp with Dryrod
Unlike pressure injection, a successful and effective Dryrod treatment can be carried out on an average sized house without specialist equipment required to carry out the installation. Because each rod is dosed with exactly the correct amount of active ingredient, it is not possible to over or under dose. Simply drill and insert the correct number of rods.
Dryrod Damp-Proofing Rods have been extensively tested by the British Board of Agrement, the University of Portsmouth and Safeguard Europe. A wall treated with Dryrod has been proven to be over 4 times more resistant to rising damp than a wall treatment with the next competing method. With its quick and simple installation method, guaranteed dosage and extensively tested level of effectiveness, Dryrod Damp-Proofing Rods are the modern way to treat rising damp.
Additional Measures
Salt contaminated walls may need to be replastered. Dryrod Damp-Proofing Rods are effective enough that no extra waterproofing is required by new plaster or a sand and cement render. If the wall is not contaminated by ground salts then it should be possible to keep the old décor.
If the wall is contaminated by salts, however, then replastering will be required. It is recommended to seek expert advice before making a decision on the need to replaster. More information is available on the replastering page of this site.
Effectiveness
Dryrod Damp-Proofing Rods have been issued a BBA certificate (no. 97/3633) that confirms they will remain effective for at least 20 years. Our own testing indicates that Dryrod should create an effective DPC for as long as the treated wall is structurally sound. Other independent tests have been carried out by the University of Portsmouth, confirming the effectiveness of Dryrod.
Source: www.dryrods.com
Share this Post