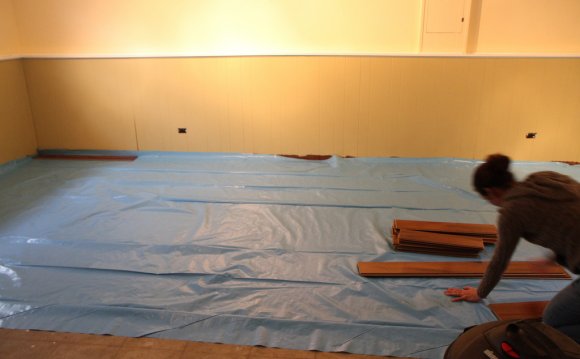 When installing hardwood floors, you want to protect your investment whether it's a $0.69 laminate or a $6.69 exotic hardwood. Moisture is a big concern for flooring, you definitely don't want it! And we're not just talking about some water spilling or snow being tracked through the house (although, to help with that, we do recommend putting down rugs at home entrances and in front of sinks). Moisture can come up through your subfloor, especially if you are installing over concrete or below-grade. A moisture barrier is need to protect the flooring against moisture or moisture vapor. Along with the moisture barrier, you may want to install an underlayment. It insulates and cushions the flooring, making it more comfortable to walk on.
For moisture barriers, there are three basic methods of protection:
Nail Down Installations – In crawl spaces under the subfloor, 6 mil poly sheeting plastic should be placed over the dirt. IN addition, a 15 lb felt paper should be placed between the sub-floor and the new hardwood flooring.
Glue Down Installations – When gluing down wood to concrete, a moisture barrier is almost always needed, especially below-grade. Usually, a trowel applied product is recommended, such as Bostiks MVP or Mapei's WFM.
Floating Floor Installations – When installing laminate or other floating floors over cement, VCT, ceramic tiles, or kitchen vinyl, use 6 mil poly sheeting plastic as the moisture barrier. Omit plastic when covering bare wood subfloors thereby allowing the subfloor to breathe.
Some underlayments have a built in moisture barrier. These are typically used for floating floor applications. If you live in a condo, many have association rules regarding noise levels. Underlayments can really help absorb sound. As well, they can insulate the floor, leaving it warmer in the winter and cooler in the summer. Cork is especially popular for these types of applications.
One thing to consider when choosing an underlayment is that in this case, too much can be a bad thing. Installing laminate that already have a pad pre-attached over another underlayment is not recommended. Too much padding material can actually lead to a weakening of the joints from the underside resulting in the floor seperating. Our laminate that have a pad pre-attached have been tested for both sound suppression and support of the locking system and are sufficient. However, for customer wanting extra sound isolation and thermo properties, our cork underlayments are perfect for use under laminates with or without a pre-attached pad. The Quiet Walk (which has a built in moisture barrier) and Insulayment underlayment would also be appropriate.
Source: www.lumberliquidators.com
Share this Post