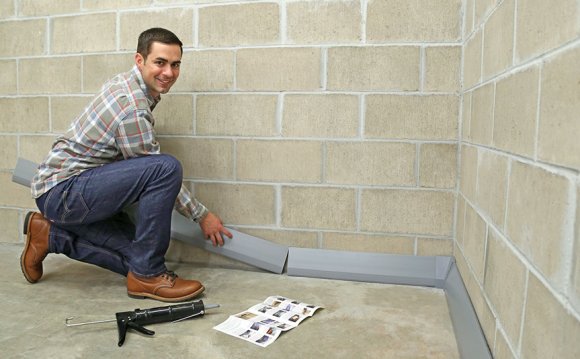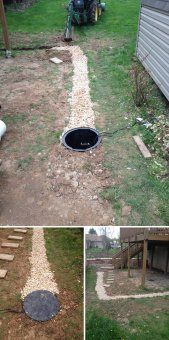 This homeowner had 7 contractors to their home for a very unique problem.
They live at the bottom of the hill beside a stream and retaining wall. When it rains the back yard fills to over 2 feet deep of water. Looking out the sliding basement door it looks like an aquarium. We created a trench and pump system that has corrected the issue! That's the experience of Cottrell Basement Waterproofing LLC
Another successful Waterproofing System installed
For 26 years we experienced water infiltration into our basement. Along with the typical infiltration in a few areas around the perimeter, once the water table reached a certain level, we experienced water coming in via the french drains.
We talked many times about having the basement waterproofed, but figured that the project would be cost prohibitive. Finally, enough was enough. As a result of hurricanes and tropical storms tracking northeast becoming part of the normal weather patterns or trends over the past several years, we contacted Denny Cottrell (Cottrell Basement Waterproofing) and scheduled an appointment for an inspection and estimate. Much to our surprise, the price to complete the work was very affordable.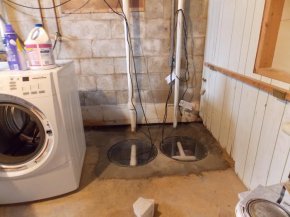 The meeting with Denny was very informative and the product presentation was very professional. We scheduled the work to be completed. During the 4 days that the crew was there, they were very polite, professional and kept the mess to a minimum.
Two weeks after the installation of the system we received nearly 4 inches of rain, certainly a test for the system. In the past we would have surely been dealing with utilizing a shop vac, attempting to stay ahead of the water to no avail, as has always been the case.
But this time was different thanks to the Cottrell Basement Waterproofing System. Over the course of the 3 days of rain I regularly inspected the basement and found that we now had a DRY basement after all these years.
In addition, Cottrell installed the E-Z Breathe system in the basement. Again we were amazed that after only a few days of its installation, the basement no longer smelled like a musty basement we, and many, are used to.
I would like to thank Denny and his crew for an excellent job and would highly recommend them for your basement waterproofing needs!
SEL – York, PA
Happy Mothers Day
Cottrell Basement Waterproofing has it's roots firmly in soiled around family at heart. We would like to wish all Mothers a happy and beautiful day today. Life has us all in a fast pace. But life wouldn't be possible without Moms.
Sump Pump Installation
We had a sump pump installation completed and were pleased with the prompt response for an estimate and a quick turnaround for the work to begin. Dan completed the work, was careful to minimize the work debris, and went above and beyond to make sure that we received the best service. Thank you Dan!
Source: www.cottrellbasementwaterproofing.com
Share this Post