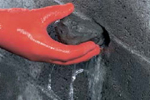 Causes of water ingress in basements & cellars
WHY IS MY BASEMENT / CELLAR LEAKING?
Damp, dark and dank is the description of many industrial and domestic basements without effective basement waterproofing. They are often large spaces that in their present condition serve no purpose. In fact they can even devalue the property. However underground rooms and cellars can be transformed into stylish living space, storage rooms and workshops quickly and easily. Simple methods can turn basements into bedrooms using waterproof paints, polymer cement coatings and waterproof renders
For example Febtank super and Thoroseal Super are extremely durable waterproof coatings for masonry and concrete. Easily applied by brush to prepared surfaces they provide a highly resistant barriers to water penetration. Both are suitable for both internal and external use, above and below ground level. Their high bond strength ensures long life even when subjected to high water pressure.
Versatile products Thoroseal Super and Febtank Super find application in waterproofing of ;
basements
foundations
retaining walls
water reservoirs
tunnels
floors and walls prior to tiling
swimming pool structures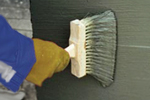 Make one call to our direct line 25 to receive straight forward technical advice
or click here to email our Technical Services Department for immediate assistance and personal response
Once cured both can be overcoated with cement/sand render or dry lining systems prior to decoration.
Live or active water leaks can be cured instantly using Febtank Plug or Waterplug cement based water stopping compounds. They expand on hardening to form a watertight seals ideal for;
sealing floor and wall joints prior to coating with Thoroseal Super
instant sewer connections
sealing cracks and joints in lift pits
rapid repairs to water retaining structures
Other important systems to consider are;
Sika 1 Pre-Bagged Structural Waterproofing System - Sika 1 mortars are prebatched kiln dried blends of aggregates and cements in 4 grades at the appropriate mix ratios for optimum application performance and durability. When mixed with the diluted Sika 1 liquid waterproofing admixture they provide the multicoat components for the structural waterproofing and waterproof rendering systems.
Structural waterproofing renders and screeds to resist water pressure, below and above ground.
Sika 1 Waterproofer is an aqueous solution of colloidal silicates which swell to block capillaries and pores in cement renders and screeds.
Sika Spritz & Bonding Coat Mortar is a primary bonding mortar for the prebagged mortar systems.
Sika Render Mortar is part of the Sika1 Structural Waterproofing System and is the second layer of the render system.
Sika Finishing Mortar is part of the Sika 1 Structural Waterproofing System and is the third layer of the render system.
Sika Screeding Mortar is part of the Sika 1 Structural Waterproofing System and is a prebatched multi-purpose screed mortar.
Sikadur Combiflex Set for sealing construction joints, expansion joints and cracks comprises of a Sika Hypalon Strip bonded to the substrate by Sikadur 31 CF Rapid epoxy resin adhesive. The Hypalon strip is highly elastic, rot proof and chemically resistant. DWI approved.
Sikadur 31 CF Rapid is a moisture tolerant epoxy resin structural adhesive for use with the Sikadur Combiflex Set.
Compound SBR a versatile highly effective waterproofing additive for sand/cement screeds and renders in basement tanking situations.
Source: www.arconsupplies.co.uk
Share this Post