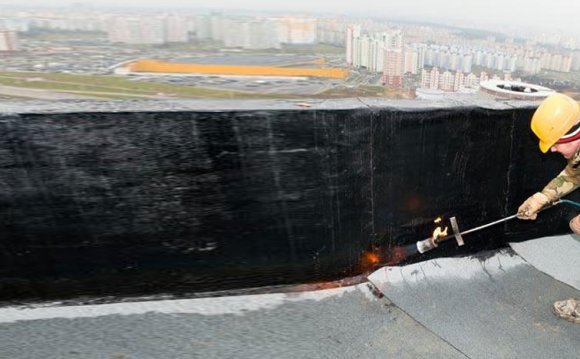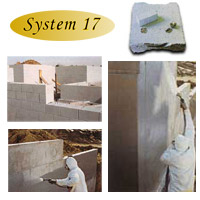 System 17-X Ultimate Damp Proofing Barrier
Unlike asphalt base products which coat the surface of the foundation, the special formulation of System 17-X penetrates the surface, forming a mechanical bond stronger than the concrete itself. Tests conducted in accordance with ASTM D 4541-93 show the bond strength of System 17-X is so great, the concrete surface failed before the System 17-X pulled off. The smaller sample showed no peeling, blistering or bubbles even after being boiled in water per ASTM 579-81.
Exterior Damp Proofing
System 17-X is an exciting, new, high quality damp proofing, designed to replace the asphalt coatings and poly film now used in construction. Manufactured from recycled plastic resin*, it forms an epoxy-like seal which bonds directly to masonry or poured concrete. The result is a durable, moisture impervious membrane over the entire surface. Applied with brush, roller or sprayer our engineered two-pass system assures proper coverage and thickness.
Interior Vapor Barrier
System 17-X, with its thin film properties, dry-to-the-touch feel and low perm rating is perfect for use as an interior vapor barrier. Much easier to use than poly film, to meet current building codes or when exterior insulation is used.
Capillary Block
The plastic resins in System 17-X seal footings, prevent capillary action and reduce moisture transmission in basement walls**. Dries smooth and won't foul chalk lines.
Notes
VOC Compliant Precaution: Use in well ventilated area, protective eye wear, clothing and a 3M organic cartridge respirator or equal should be used. System 17-X may be brushed, rolled or sprayed.
* Recycled content will vary with availability in the market place.
** To be effective a capillary break must be used above the drain line or water table level.
Product Specifications
Color: Masonry Grey (gloss)
Coverage: 50 sq. feet per gallon
Formulation: Recycled Plastic resin – aromatic emulsion
Application methods: Spray, brush or roll
Additional Features
Environmentally friendly, once cured it will not leach into soil
Contains U.V. inhibitors, preventing it from breaking down in sunlight
Made of plastic resin with no emulsifiers; therefore it is unaffected by soil bacteria
Unlike asphalt, will not dry out and crack with age
An improved damp proofing product developed by specialists in the field of plastics and paints
Source: www.idi-insulation.com
Share this Post