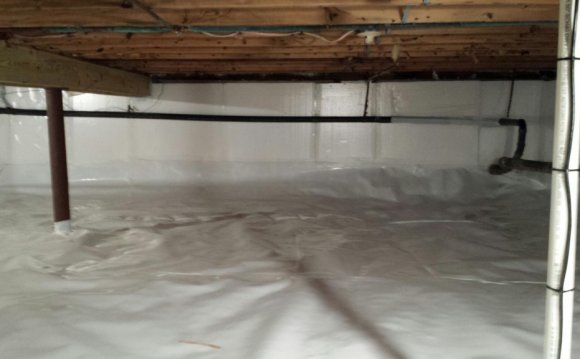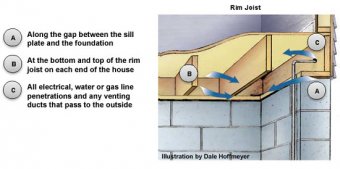 Considering a sealing and insulating project for your basement or crawlspace?
Sealing air leaks and adding insulation in the basement are generally considered moderate to difficult do-it-yourself (DIY) projects, but the benefits can be substantial. If you are doing a major home renovation project, now may be a great time to tackle this project too.
Use the information below to determine if this project is a good fit for your home, what common problems it can help address, what the potential benefits are, what tools and materials you'll need to complete the project if you choose to do it yourself, important safety considerations, step-by-step instructions for getting the job done and when to seek professional help.
Did You Know?
Your local utility may offer rebates for a professional home energy assessment and certain air sealing and insulation projects.
Be sure to contact your utility company before beginning a project to see what incentives are available in your area. You can also check for incentives using the DSIRE database for state incentives .
Common Symptoms
If your home experiences any of these problems, it might be a good candidate for a basement/crawlspace insulation project:
Cold floor in the winter
Hot or cold ceilings, walls, or whole rooms; uneven temperature between rooms
High heating or cooling bills
Savings in Energy and Money
Second to the attic, the basement is one of the largest opportunities to save energy in your home. By sealing and insulating your basement, you can prevent cold floors and reduce drafts from below to keep your home comfortable.
If your basement or crawlspace is accessible and not too difficult to move around in, and you enjoy tackling bigger home improvement projects, basement sealing and insulation may be a good DIY project. Otherwise, consider finding a contractor to complete the project for you.
Doing the Project Yourself
Hiring a Contractor
Ease of Project
Time (days)
Costs
Moderate − Difficult
1−3
$$$$$
1−2
You may be eligible for financial assistance to make improvements like air sealing and insulating through your state's Weatherization Assistance Program (WAP).
For more information, visit the following site and select your state of residence: Weatherization Assistance Agency Locator .
Key: $ = $2, 000
EPA's ENERGY STAR program provides great DIY resources to help you get the job done. However, if you find any of these conditions in your basement or crawlspace, it is recommended that you consult or hire a professional to correct these problems before proceeding:
Wet or damp insulation, indicating leakages
An overly cold or hot basement
Insect infestations during the transition from colder to warmer weather or vice versa
Cracks in basement walls
Materials and Equipment
Expanding spray foam
Caulk and caulk gun
Old clothes
Box cutters
Flashlight/headlight
Safety glasses, gloves and dust mask/protective face mask
Tips and Safety Considerations
Gather all your tools and supplies before you begin to minimize trips into and out of your basement or crawlspace.
Be sure that the work area is well lit. Use a drop light for most of the space if necessary and keep a flashlight or headlight handy.
During cold weather, try to pick a temperate day and wear warm clothes.
Addressing Indoor Air Quality
Sealing the home can trap indoor air pollutants such as carbon monoxide, radon and volatile organic compounds (VOCs) and create unsafe conditions. Properly addressing this may require additional ventilation fans to maintain safe air quality in your home and repairs to reduce or eliminate the sources of indoor air pollutants. Here are some things to consider before starting your home sealing project:
Radon
If you are in a high radon area , consider contacting a contractor to conduct a radon test and install radon mitigation systems before sealing your home. Find out more at EPA's Consumer Guide to Radon Reduction .
Combustion Safety
If you have an appliance that uses oil or gas, consider hiring a Home Performance Contactor to test those appliances to ensure they are properly drafting combustion gasses before and after sealing your home. Sealing in some cases can cause naturally venting combustion appliances to backdraft gases back into your home, creating unsafe conditions.
Sealing Your Basement or Crawlspace
Look for common locations of air leaks in basements and crawlspaces:
Between rim joists and under the sill plate
Around windows
At wiring holes
Around plumbing pipes
Around the door to crawlspace, if attached to outside of house
Around foundation at the sill plate, if not sealed properly
Step 1. Seal any gaps or cracks in basement wall, ceiling or floor. It is best to seal up the top and bottom of the inside of the rim joist cavity. This is especially important at areas such as bay windows that hang off the foundation. Use caulk for any gaps or cracks ¼ inch or less and spray foam for anything larger. It is also very important to seal any holes for wires, pipes or other service areas that may lead to other floors of your home.
Step 2. Cut insulation and insert accordingly. Insert and secure all insulation between holes in rim joists. If using batts, cut the insulation to fit and place against the rim joist. If using rigid foam insulation, foam around the edges to hold the insulation in place. After installing the rigid foam insulation or fitting batts into rim joists, seal any remaining holes and cracks to make your basement airtight.
Source: www.energystar.gov
Share this Post