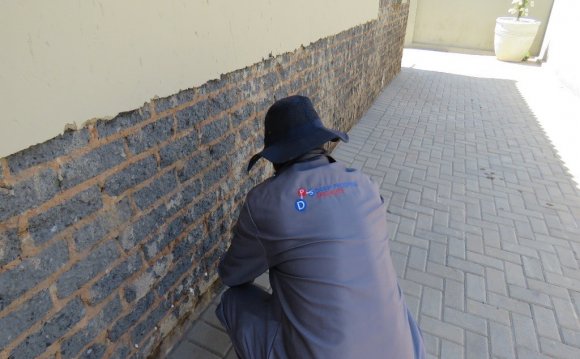 Procedure code: 715001S Source: Prosoco, Inc. - Kansas City, Ks Division: Thermal and Moisture Protection Section:
TREATING RISING DAMP BY INJECTING CH= EMICAL DAMPPROOFING
DAMPPROOFING OF AN HISTORIC BUILDING IS CONSIDERED AS THE LAST
RESORT BECAUSE SUCH WORK CAN CAUSE IRREVERSABLE DAMAGE TO THE
BUILDING. BEFORE PROCEEDING WITH SUCH WORK TRY REGRADING AT THE
BASE OF THE STRUCTURE, REPAIRING UNDERGROUND DRAINAGE SYSTEMS, OR
ADDING OR INCREASING VENTILATION.
PART 1-GENERAL
1.01 SUMMARY
A. This procedure includes guidance on treating rising damp
in masonry walls by installing a chemical dampproof
course.
B. See 01100-07-S for general project guidelines to be
reviewed along with this procedure. These guidelines
cover the following sections:
1. Safety Precautions
2. Historic Structures Precaution= s
3. Submittals
4. Quality Assurance
5. Delivery, Storage and Handling=
6. Project/Site Conditions
7. Sequencing and Scheduling
8. General Protection (Surface and Surrounding)
These guidelines should be reviewed prior to performing
this procedure and should be followed, when applicable,
along with recommendations from the Regional Historic
Preservation Officer (RHPO).
1.02 DEFINITIONS
A. Rising damp - the upward capillary migration of ground
moisture through porous masonry walls.
1. Rising damp may result from the presence of below-
grade membranes applied to vertical foundation
surfaces which prevent moisture from leaving the
masonry through the exter= ior wall surfaces, and
forcing the moisture to migrate upward to heights
of three or more feet above the grade line before
evaporating.
2. Rising damp can result in the development of
numerous other problems, including damp patches on
walls, unhealthy living conditions, fungal growth,
increased heat losses, and staining and
deterioration of interior finishes, the masonry
surface and the basic structure of the building.
B. Dampproof course - a physical barrier (traditional= ly
high-fired brick, lead sheets, slate, or bitumen
material) which is usually inserted approximately six
inches above the natural ground level during construction
to prevent the condition of rising damp.=
1. These materials may eventually fail due to poor
installation or deteriora= tion over the years.
2. Reinstallation of a mechanical dampproof course is
an expensive and disrupti= ve process. Such a solid
horizontal barrier is difficult to achieve in
rubble or cavity walls.
C. Chemical dampproof course - A specially formulated water
repellent designed for either low pressu= re injection or
gravity feed into holes drilled at regul= ar intervals.
1. The fluid impregnates the masonry, migrates through
the capillaries, and forms a chemical
water-repellent barrier by lining the pores of the
masonry, and prevents the moisture from migrating.
2. The barrier interrupts the migration of water
through natural capillary action.
3. Chemical dampproofing is less costly, quicker, and
involves far less disturb= ance to the building than
mechanical dampproofing.
4. In Europe, siliconate resins have been used in
chemical dampproofing and have proven effective in
controlling rising damp for periods of 10 or more
years, provided there are no unusual ground water
conditions or contaminants and provided there are
no highly alkaline mortars (as in repair work).
PART 2-PRODUCTS
2.01 MANUFACTURERS
A. ProSoCo, Inc.
755 Minnesota Avenue
P.O. Box 1578
Kansas City, KS 66117
800/255-4255 or 913/281-2700
Request Tech Bulletin 683-1 and Conserva= re Dampcourse
Fluid Product Data.
2.02 MATERIALS
A. Latex-siliconate, such as "Conservare Dampcou= rse Fluid"
(ProSoCo, Inc.), or approved equal; or silicone solutions
in organic solvent, or aluminum stearate= s.
2.03 EQUIPMENT
A. Infusion reservoir bottles and tubes.
B. Low pressure injection equipment.
C. Electric drill with 1/2" to 3/4" diameter diamond masonry
bits
PART 3-EXECUTION
3.01 PREPARATION
A. Surface Preparation:
1. Remove exterior and interior finishes only as
required to expose masonry walls for treatment.
2. Remove interior plaster damaged by hygroscopic
salts to a height of 18" above the maximum level of
rising damp.
3. If recommended by chemical manufacturer and RHPO,
grout large voids in cavity walls within damp zone.
3.02 ERECTION, INSTALLATION, APPLICATION
A. Drill 1/2" - 3/4" diameter holes at six to eight inch
intervals on one side of the wall only.
1. The more porous the masonry, the further apart the
holes may be placed.
2. Holes should be placed within mortar joints as much
as possible.
3. Depth of holes shall be one-ha= lf to three-quarters
the depth of the wall.
4. For walls over 18" thick drill holes into both
sides of the wall to ensure even penetration of
dampproof chemical.
B. Installation of dampproof liquid - Gravity Infusio= n
Method:
1. Fill infusion cups with liquid and allow liquid to
flow into holes.
2. A minimum of 2=AB quarts of liquid will be required
per 36 lineal inches of a 10-inch thick wall.
C. Installation of dampproof liquid - Pressure Inject= ion
Method:
1. Set pressure of injection equipment to provide 50
to 100 psi.
2. Attach hoses to pump and inject dampproof course
liquid in stages, or as recommended by
manufacturer.
3. Pump liquid in 4-inch to 6-inch stages, allowing
each stage to cure accord= ing to manufacturer's
instructions before pumpi= ng in next stage.
D. Allow initial dry out period of approximately fourteen
days before plugging injection holes with sand/cement
mortar colored to match the existing wall surface. For
Source: www.gsa.gov
Share this Post