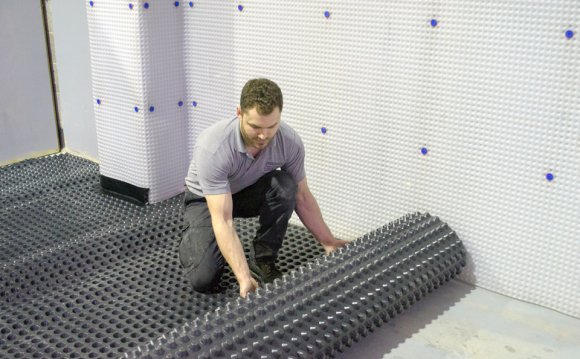 Rendering, older than 2 days.
Concrete, 14 days, max. 90% RH.
Lightweight concrete, max. moisture content 8%.
Aerated concrete.
Screed, min. 7 days.
Existing tiles and terrazzo.
Plywood, moisture content 7-12%. Only floors.
Gypsum plaster, wet room plasterboards, fibre-reinforced plasterboards, calcium silicate boards and Glasroc Hydro.
Cement-based boards such as Aquapanel, Powerpanel H2O, Hydropanel, Ivarit UniCo, Internit VR.
Polystyrene boards with fibre-reinforced cement surfaces such as Wediboard, Jackoboard and Luxplader.
Surface preparation
The surface must be dimensionally stable and free from dust, grease and laitance as well as blooms and form oil residues. Remove grease and soap residues with Alfix Deep Cleaner.
Prime highly absorbent substrates with Alfix Primer or Alfix PlaneMixPrimer diluted from 1:6 - 1:20 with water. Room temperature should not be below +10ºC. The primer must be dry before further application.
How to use
Apply Alfix 2K Sealing membrane to the substrate in a layer of approx. 0.5 kg/m2 ensuring full coverage. Use a roller, brush or a trowel for the work. Immediately after, press the Alfix Waterproofing membrane onto the moist sealing membrane, ensuring full contact with the substrate without air pockets - make 50-100 mm overlap between sheets. When joining
more membranes, it is important that they do not overlap. Cut any overlaps to ensure that there is only a single waterproofing membrane layer.
Source: www.alfix.com
Share this Post