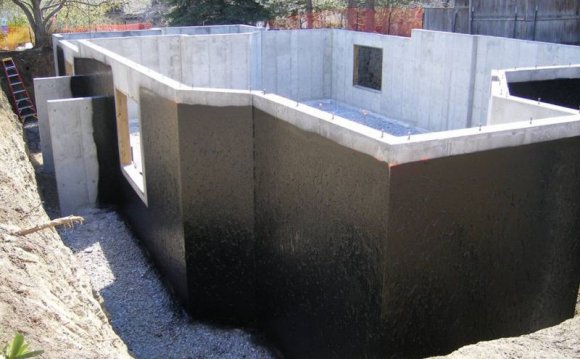 "Wet basement" is a phrase that strikes fear into the hearts of most homeowners. More than half of U.S. homes have this problem, according to the American Society of Home Inspectors. The most typical causes are condensation, runoff and groundwater swelling. Solutions depend on the cause of the problem and can range from using a dehumidifier to installing a perimeter drain system. If you notice dampness and a musty odor when you enter your basement, you may be experiencing the first signs and should make it a priority to combat the water before more serious damage occurs to your home.
Condensation occurs when moist, warm air hits cool foundation walls. If you see wet spots on basement floors and walls, you might have a condensation problem. Check it by performing a simple test. Tape plastic wrap onto a damp spot, sealing the edges with tape for a few days. If moisture appears on the wall side of the plastic, it's a leak; if moisture is on the outside, it's a condensation problem.
Allowing condensation to persist in your home can lead to structural problems. Simply opening windows regularly to aerate your home can eliminate the problem. Install a dehumidifier for a longer-term solution.
Groundwater swells when the water table has exceeded its high point. Soil surrounding your home is unable to hold the extra water, causing a consistent runoff problem. If you have a wet basement due to groundwater swelling, your basement will be wet for a long period after each storm and there may be water bubbling up from the joints between the wall and floor. Many homes are not constructed with protection from high groundwater, and it is very expensive to install a system to combat the problem.

Combating a Wet Basement
No matter if your basement is finished or you use it as just a storage room, it is important for the structural integrity of your home to combat a wet basement problem as soon as you discover it. Solutions to tackling a wet basement are plenty. The first step is trying to figure out the type of problem you are encountering. Then, check the grading around your home, downspouts for any leaks or pooling, and cracks in the driveway. Fix all of the problems you encounter as well as patching cracks in the basement walls and floors, as water in the home can cause mold problems as well as a wet basement.

Applying a Concrete Sealer
Sealers are available for coating basement walls and floors. They offer a quick waterproofing measure and can be decorated. They are easy to apply, provided you follow the manufacturer's guidelines. They can be applied to damp surfaces but any standing water should be removed.
Fitting a Polyethylene Membrane
An alternative to epoxy coatings is to use a polyethylene membrane. Although it holds back water, it may be necessary to install channels and a sump pump to collect and remove water from behind the membrane. Seek professional advice on whether this is required. Measure the surface area you need to cover and make sure you buy enough membrane for your needs.
Source: www.diynetwork.com
Share this Post