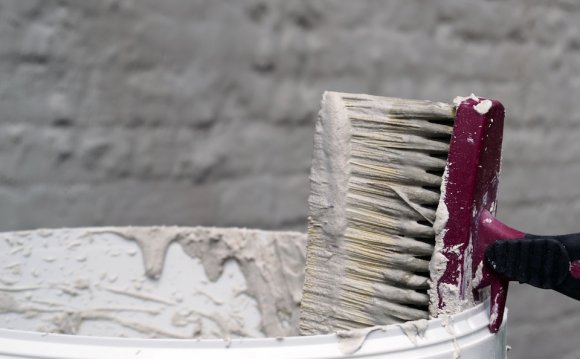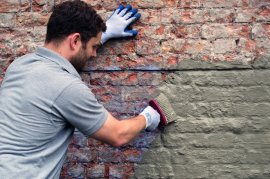 How to Tank a Cellar
Cellars are often damp and unusable beyond storing the odd bottle of wine and old tin of paint. If you want to make full use of your cellar or basement, then you will need to keep it dry. Tanking systems provide an impermeable waterproofing coating to the walls and floor, helping keep cellars dry.
When it comes to waterproofing a basement with damp walls you have two main options:
2) Cellar tanking
There is some confusion about exactly what constitutes cellar tanking. The term has come to refer to above ground damp proofing as well as cavity wall membranes as part of a basement drainage system. In this article, we are going to focus on cellar tanking as per the following definition.
What is Cellar Tanking?
Cellar tanking or basement tanking refers to the application of a liquid waterproof coating (tanking slurry) to the walls and floor of a cellar. It is used to treat damp walls by preventing water ingress, effectively making the walls permanently watertight.
Damp walls are common in cellars because the walls are below ground. Water from the retaining earth can make its way through the walls and into the cellar. When this moisture passes through the wall, it can also carry salts and minerals with it. Damp walls are cold which creates issues with condensation and in turn mould. Tanking slurry is designed to deal with these issues. It is applied directly to damp walls. When the tanking slurry cures, it forms an impermeable waterproof barrier, preventing water ingress and damp.
It's important to point out that unlike a cavity drain system, tanking slurry blocks water from entering your cellar rather than allowing it in and controlling it to an evacuation point.
Tanking Slurry
The most effective way of tanking your basement or cellar is with tanking slurry. You may sometimes see this referred to as cementitious tanking. Both names refer to the same product - a specially formulated mixture designed to be applied to cellar walls to stop water ingress. It either comes pre-mixed or as a powder to mixed on site with clean water.
Some people may recommend tanking a cellar with a bitumen coating, but this method is not suitable for tanking an entire cellar or basement. Bitumen coatings are more suitable for smaller above ground areas and external waterproofing.
Tanking Cellar Walls
When it comes to tanking wet or damp walls, you need to prepare thoroughly before applying the tanking slurry. There are several steps you should take to minimise the risk of the tanking failing.
How to Tank Your Cellar with Tanking Slurry
Preparation
You need to prepare the masonry surfaces thoroughly. In older homes, this can take a long time but preparation is key to a watertight system and well worth the effort.
The first job is to ensure that you can get to the full surface of all the walls (removing all shelves and other items) and that the floor is also clear.
You then need to hack off any plaster and render from the cellar walls along with any previous coatings (bitumen, paints etc) right back to the original masonry. Rake out any old mortar joints and any other loose material before finally making sure the walls are dust free. You will then need to carry out repairs on any existing cracks or holes with PermaSEAL Fillet Seal.
Note: For tanking to work, the brickwork needs to be stable so that it can cope with the build up of water pressure. If this is in doubt, then you will need to take action to ensure the walls can resist water pressure.
Check for Seepage
Once you have removed all materials from the walls, you need to check if there is active water seeping from the wall. If there is evidence of water seepage, you will need to tap off this water pressure where necessary.
Wall floor junction or fillet joint
When tanking a cellar, we always suggest that the walls and floor are coated to create a waterproof box. The point where the wall and floor join can be a potential weak point in any system, we therefore recommend creating a reinforced joint.
Source: www.permagard.co.uk
Share this Post