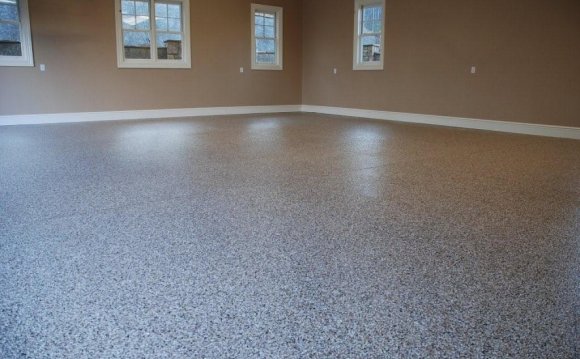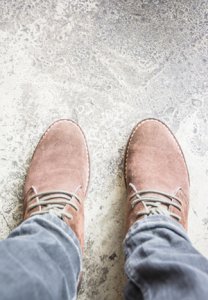 Address Moisture and Then Paint
What will work depends on whether the moisture problem is something that has always been a problem or a recent thing caused by this year's excessive rainfall in many areas. If you have a moisture problem, you need to solve it. Often, cleaning gutters and routing downspouts away from the house can resolve the problem. If the excess rain caused it, wait until the moisture dries up and keep a dehumidifier in the room before you start or you will not be able to get the paint to set properly and mildew/mold will be a constant problem.
I would use three to five colors of concrete paint to make a "tile" or "vinyl" look floor. My dad's house was done this way 22 years ago, and the floor still looks great. Vinyl look is the easiest. Remove everything from the room, and cover anything you don't want paint to splatter onto. Use a neutral color like vanilla cream or an earth tone as your base coat and paint the entire floor with it and let dry. Use a small paintbrush to splatter 2-6 colors that blend and contrast to make a random design all over the floor. When dry, it very much resembles vinyl, and mistakes don't show since there is no pattern. Make sure at least one of your colors is the color of the dirt in your yard and the floor will not look dirty unless it is very dirty. To get ideas for color combos, look at tile samples from a flooring store. You can mimic grout lines. First, use a black or dark gray base coat, and then put down narrow tape on dry paint to be the grout lines. Then repaint the floor with the light base coat and continue as above. You can also make a stamp from a large sponge and stamp the floor, but that can be hard on your knees.
Debbie
Try This Epoxy Kit
We just bought an epoxy kit, made by Rustoleum, to do our basement floor. It's water based and easy to apply. There is no primer needed. It comes in gray or tan, and the kit has colored chips you can choose to sprinkle on while the floor is still wet. My in-laws put this in their garage, and we were so impressed that we had to get some. The finish resists spills, chemicals, etc. Water will just bead up for easy cleanup. I would say that it's worth every bit of the $50 we spent. The kit covers a 250 square foot area. You can go to rustoleum.com to check it out.
D. Norris
Sponge Paint to Look like Granite
When we bought our house, the basement floor was painted with gray concrete floor paint. The basement was unfinished. However, our teenage son asked us to build a basement bedroom for him. He did not want carpet or any other flooring other than the cement. So we sponge painted the floor to look like granite. We used a sea sponge torn into several pieces and sponged on black, light gray, and an occasional bit of yellow. We just used ordinary latex paint. Then we coated it with four coats of low gloss varnish to protect the paint. It still looks great five years later. It's easy to keep clean too. The only thing that I would do differently would be to paint a brick design or some kind of border at the doorway. Our floor already was based-coated with the floor paint. If you have bare cement, you should probably etch the cement before painting. Ask at the home supply store. Also, you can paint any type of stone look or tile look you want. Just look at samples of marble, granite or terra cotta tiles at the home supply store and you should be able to duplicate the look yourself.
Our son has mild asthma and his allergist wasn't happy that his room is in the basement until she found out that he doesn't have any carpet. We can easily dry or damp mop his floor and his asthma problems have gone way down since he lives without a carpet in his room.
Joanne
Check sale prices for Concrete Stain on Amazon.
Look into Concrete Stain
A very popular method today is concrete staining. I have a friend who does business in new construction and restoration work on tile and concrete floors. Her business in floor stains is increasing by leaps and bounds. The stains are water-based and can be sprayed on in several colors/layers and then sealed with several layers of sealer. Beautiful and personalized designs can also be done (like stenciling) and I've seen some that look like polished marble, faux tile, mosaic, or rough stone. Talk to your local hardware dealer or search online for concrete stains.
Also, if the basement is unheated, you might want to think about radiant floor heat and putting a wood floor raised just a few inches over that.
Karen
Boat Deck Paint May Be the Answer
I suggest boat deck paint. It has sand mixed into it, so it is non-slip and very durable. Area rugs could then be used to add color and warmth.
Source: www.stretcher.com
Share this Post