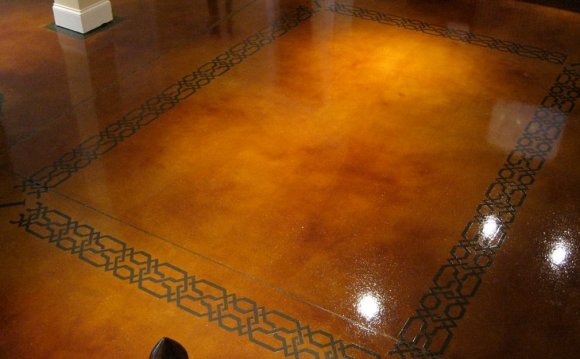 When it comes to choosing basement flooring, there's good news. Almost any kind of flooring is okay to install in a below-grade basement. Most properly installed types of flooring can stand up to damp conditions and high humidity.
Exceptions are solid hardwood flooring and laminate flooring made with a fiberboard core that hasn't been treated for moisture resistance. Both types of flooring absorb moisture and will warp and buckle.
That leaves you a lot of basement flooring options, such as ceramic tile, engineered wood, rubber and laminate flooring made with a moisture-resistant plywood core.
But that doesn't mean basements are trouble-free. A concrete basement slab is porous and prone to moisture and water vapor migrating up through the slab. While the flooring itself may be unaffected, you'll need to make sure that you're not creating a haven for mold and mildew to grow underneath your basement flooring.
One method is to install a vapor barrier under your flooring. Sheet plastic is a good barrier, or you might seal the slab with paint or epoxy coating made specifically for damp concrete walls and floors.
Another way is to raise the floor with a waterproof subfloor. The system is made of interlocking plastic tiles that are elevated on grids. The grids create an air space below the floor that dissipates moisture and keeps your basement flooring warmer than if it's in direct contact with concrete. It's not designed to be used with a nail-down type of flooring.
Some types of vinyl and carpet tiles come with similar plastic barriers already attached to the tile. They snap together and are good for DIY projects.
Here are other basement flooring ideas:
Epoxy floor coatings are good if you can live with a hard surface flooring. Epoxy comes in a lot of colors, is totally waterproof, and it's easy to apply.
Ceramic tile is the designer's choice, with tons of colors and styles. It's unaffected by moisture and goes directly onto concrete that's smooth and free of cracks.
Vinyl tile and sheet flooring also goes directly over prepared concrete and will withstand even minor flooding with no ill effect. Resilient vinyl floor provides a bit of cushioning underfoot and is fairly inexpensive. Higher priced vinyl does a good job of mimicking ceramic tile, real stone and even wood.
Engineered wood flooring gives you the warmth and beauty of real wood with the stability and moisture resistance of laminate construction. Click-together tiles and planks are DIY-friendly and easy to install as a floating floor system. Check to make sure the type you choose is rated for below-grade basements.
Rubber flooring comes in sheets and DIY-friendly tiles with interlocking edges. You'll find lots of colors that make it fun to create your own designs. Rubber floors are nicely cushioned and a good choice for basement playrooms.
No matter what flooring you choose, it's important that you take steps to keep your basement as dry as possible. That means grading out foundation soil so it slopes away from foundation walls at least four inches over 10 feet, adding extensions to your downspouts so water exits at least five feet away from your house, and keeping gutters in good repair.
Source: www.diynetwork.com
Share this Post