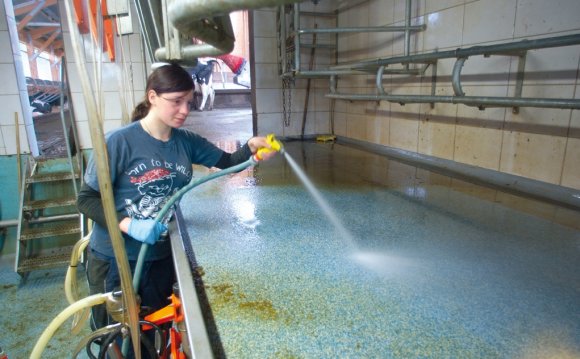 Barrier-Guard Waterproofing Membrane is an exceptional copolymer emulsion waterproofing designed for use beneath ceramic tile, marble, quarry tile, below grade and between slab, and under most Dex-O-Tex composition floor and deck systems. It complies with ANSI 118.10 as a waterproof membrane.
Barrier-Guard Waterproofing Membrane offers protection against water and water borne salt intrusion, together with excellent adhesion. It is applied to horizontal and vertical concrete substrates, bricks, tile and metal. For wood surfaces consult Crossfield.
Barrier-Guard Waterproofing Membrane is water-based and totally free of volatile organic content. It has no toxic odor and can be applied with or without fabric reinforcement.
The thickness of Barrier-Guard Waterproofing Membrane is a minimum of 40 mils (1.02mm) for standard applications and 62 mils (1.59 mm) with polypropylene fabric reinforced.
Where to Use
Use Barrier-Guard as waterproof membrane directly under seamless composition floors (Dex-O-Tex or other), ceramic tile, quarry tile, marble, etc. For application as a mechanical equipment room waterproofing or computer access floor waterproofing, below grade, or between slab applications, consult separate Crossfield specifications for those uses.
-Forms a monolithic, tightly adhering, molded waterproofing membrane across floors and up cove bases, curbs, etc.
-Environmental, safe and VOC compliant.
-Reduces reflective cracking caused by dynamic substrate movement.
-Thin film cross section does not interfere with building elevations.
-Unlike waterproofing sheet goods, fluid applied membranes can easily be applied over irregular shapes.
-Installed only by Professional Factory Trained Dex-O-Tex Contractors.
-Waterproofness . No Passage of Water Resistance to passage when Subject to 27.7" head of water (Hydrostatic pressure of 1 lb./ft.) for one month.
-Elongation ASTM D638 . 580%
-Tensile Strength ASTM D638 . 345 psi
-Adhesion in Peel to Concrete ASTM C794 . 8.3 lbs (pounds per inch width)
-Moisture Vapor Transmission ASTM E96 . 2.04 gr
-Crack-Bridging ASTM C836, 1/8" opening . no rupture
-Hydrostatic Resistance ASTM D751 . Passes Procedure
-Permeability ASTM E96 . 0.013 perm/in
-VOC . 6 g/L
-Antimicrobial Resistance ASTM G21 . Passes Rating 2
School Cafeterias and Kitchens
Hospital Cafeterias and Kitchens
Plant Cafeterias
Shower Rooms
Residential Kitchens and Bathrooms
Source: dex-o-tex.com
Share this Post