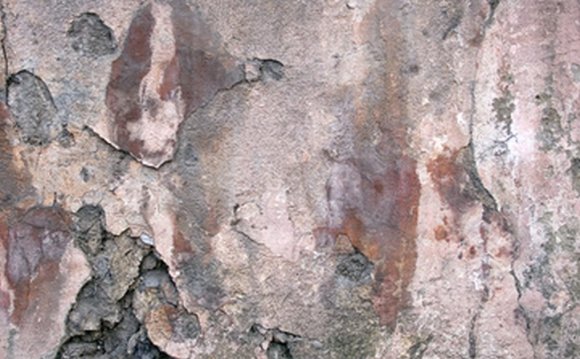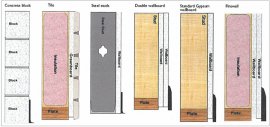 After major water damage situations, such as those that result from storms, flooding, or burst pipes in a home, it may be necessary to dry wall cavities and other small spaces as part of the total restoration effort. When placing air movers and dehumidifiers close to the wall surface is proving ineffective, restoration professionals must drill holes into the surface to help speed evaporation.
Trapped moisture within a wall cavity can lead to the growth of mold, mildew, and bacteria, not to mention compromise structural integrity. This is known as secondary damage. Microbial growth will occur on the paper surface of gypsum wallboard if allowed to remain wet for extended periods of time. In most cases, this form of damage requires the removal of the affected material.
Wet walls can present a challenge to water damage restoration professionals. Walls are usually covered with a variety of finished surfaces, making choosing the appropriate drying technique difficult.
For walls with a single layer of wallboard and flat paint, the only drying tool needed is an air mover blowing warm, dry air along the wall surface.
For walls that are covered with vinyl wallpaper, high-gloss enamel paint, or walls with multiple layers of wallboard, it is necessary to drill holes into the wall to allow air to flow into the cavity (the space between the wall studs). Airflow in the cavity will increase the rate of evaporation, which speeds drying. You can enhance drying and evaporation efforts further by feeding air movers blowing into the wall with a dehumidifier, or warming wall surfaces with direct heat.
In order to reduce the need for extensive repairs, it is usually best to remove the baseboards and drill into the wall at the floor level. Before removing the base, use a pencil to score a light line at the top of the base. Remove the baseboard and drill holes beneath the faint pencil line. Repairs will be easier, and after the base is replaced or reset, the holes will usually be covered by the baseboards.
When drywall is installed over concrete block, it is generally dry-able if there is no insulation in the airspace between the gypsum and the block.
For walls with extensive moisture damage, it may be necessary to completely remove all wet wallboard and all wet insulation. Be sure to evaluate the needs of the situation carefully before going this route, as it is the most destructive and expensive to repair.
Source: www.jondon.com
Share this Post