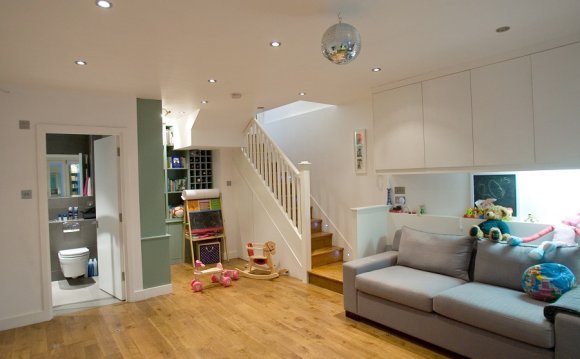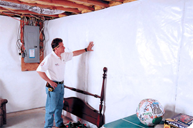 Converting your cellar is a smart investment as it is an affordable way to expand your living space that will also increase the value of your property. There are lots of different reasons to convert your cellar; some of these are to create extra bedrooms or extra living space, create a home office or even a gym.
Step 1 – Is your cellar suitable for a conversion?
If you are thinking of having a cellar conversion you will need to find out if your cellar or is suitable. By organising a basement & cellar survey you will be able to consider all of your possible options and cellar obstacles. You can also gain a better insight towards basement waterproofing regulations and what work is really involved to take the cellar conversion from plan to reality. All of our surveyors are trained to CSSW (Certified Surveyor of Structural Waterproofing) standards and are highly in the area of cellar conversions.
Step 2 – Preparing your cellar for conversion
You will need to clear out your cellar completely of anything that was previously in it. Depending on the height of your cellar you may need to excavate the floor to increase the height and also make safe the foundations of your property.
Step 3 – Waterproofing your cellar
This is the most important step in any cellar conversion project. If your cellar is not waterproof then water will find a way in which can potentially ruin any upholstery, carpets, wallpaper and decorations you have in your new cellar. You should consider a modern system such as water management system which channels the water as it enters the cellar and disposes of it safely. To find out more about visit our webpage to watch a handy video.
Depending on what you want to use your newly converted cellar for different considerations need to be made towards plumbing and electrical alterations. If you are planning on using your cellar for storage then it would be an idea to put down or even . If you are looking to use your cellar as extra living space then you could put down our specially designed and plasterboard on the walls so you can paint or wallpaper them. If you are stuck for ideas you can visit our page.
Step 5 – Admire your completed cellar conversion
Now is the time to take a step back and admire all of your hard work as your project is now complete.
Additional information on cellar conversions
Cellar waterproofing
If your cellar is leaky and wet this could cause major structural problems for your property in the long term. Find out how to fix these problems and increase your property's value at the same time.
More information on cellar waterproofing
There are a lot of ideas on what you can do with a converted cellar; extra bedrooms, extra living space, a home office or even your own personal gym.
More cellar conversion ideas
Contact us about cellar conversions
For additional information and help on cellar conversions contact us on 0808 256 4538 or contact us online using our contact form.
Related information
: Ensure you have a sump pump which is up to the job of keeping your basement dry
: Take a look at all the different options for water proofing your cellar to make sure it stays dry all of the time
Source: www.wisebasementsystems.com
Share this Post