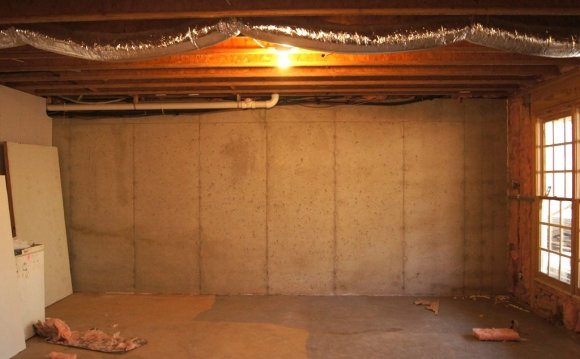 You can use a fresh coat of paint to bring new life to an old basement, an exterior masonry wall, brick, or even a garage floor. With proper preparation, painting surfaces like these can be simple, and the end result will be worth the effort.
Step 1 - Clean the Surface
As with most painting projects, preparation is the biggest key to your success. If at all possible, power wash the surface first. This is the fastest and easiest way to remove old paint and any debris that will interfere with new paint. Use the power washer with some bleach or mildewcide if there is mold or algae present. However, you may be working inside, or in a place where the mess of a power washer isn't appropriate. If that's the case, tackle cleaning with a scraper and a wire brush instead.
After all of the loose paint and debris has been removed, make sure that the substrate is clean. Any oil or grease on the masonry surface will bleed through the paint, causing discoloration, and possibly interfering with the longevity of the paint job. Use tri-sodium phosphate, also simply known as TSP, to clean the concrete surface before applying any product. Put on safety goggles, gloves, and a face mask; then, mix your TSP cleaner in a bucket according to the manufacturer's instructions and scrub it onto the surface with a scrub brush to remove any grease or oil and ensure that your paint will stick well.
Step 2 - Make Any Repairs
If you have any defects in the surface to repair, use a simple, ready-mix concrete patch to fix them after you clean. Refer to the manufacturer's recommendations when trying to assess how long the patch should dry before being painted.
Step 3 - Select Your Paint
When choosing your paint, the most important thing to keep in mind is location. Where is the paint going to be applied? When you'll want to use interior over exterior paint—or vice versa—is fairly self-explanatory. Many manufacturers actually do make specific masonry paints, and some are even designated as floor paints, so you shouldn't have a hard time finding what you need if you pay attention. There are also additives for your floor paint that can give it some texture or grip. This material is inexpensive and doesn't change the color but does prevent the slips that can occur when wet feet hit a slippery floor. Some kits also come with decorative chips that are added as the paint is applied.
Source: www.doityourself.com
Share this Post