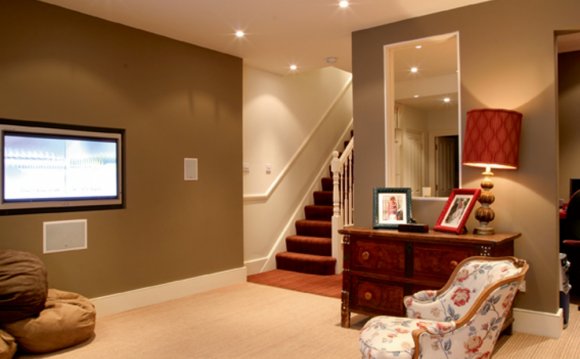 Question: Trying to add value to our three-bedroom home, we've looked at the cost of converting small attic for roughly £17, 000. Now we've seen an advert for so-called "basement conversions" – which looked fantastic and we have a cellar – and wonder if there's a reason we shouldn't go for it? Few people locally seem to have one, and even one homeowner recommended by a basement company seemed lukewarm. Are we missing something? Rhona Farthing, Wiltshire
Answer: Depending on space, how much structural work might be required and what it is you actually want to do with your new room, a basement can work wonders with the most mundane of homes.
"Unlike loft space at the top of the house, which lends itself best to creating additional bedrooms, a basement is located close to the main living areas and access, and so has a more flexible range of uses, " says a spokesman for online advice website Homebuilding & Renovating.
As a general rule, the space tends to work best as extra family living space: as a second living room, dining room or playroom.
Alternatively, it offers a chance to "de-clutter" the ground floor. For example, you could pluck out the boiler and knock down a "coat cupboard" or lavatory by transferring them all to the basement – and freeing great swathes of space at ground level.
Or you could create a separate location altogether, installing a shower or bathroom next to an office space and even installing a new external entrance.
These possibilities are the easy part: putting them into practice is where the very hard work would start.
To budget, you could expect to pay at least £800 to £1, 150 per square metre of cellar floor space, according to estimates from Real Homes magazine. This is much cheaper than if you had to dig from scratch – up to £4, 000 per square metre.
So, say your cellar is 5m by 4m – a not unreasonable size; you could expect to pay roughly £20, 000 at least. Such cost is likely to be the major deterrent for many value-seeking homeowners.
But, says a spokesman for property website house-extension.co.uk, a cellar "can add 20 per cent to 30 per cent of the value of your home".
In fact, your existing cellar would also give you a second leg-up: for planning purposes, it would qualify only as a "change of use" and so you wouldn't need planning permission.
However, if your cellar ceiling is too low for comfort, you'd have to lower its floor, and that would likely involve the local planning authority since it would technically be treated as an extension.
In reality, though, there's little your council can do if you only want to make small changes to your overall building's appearance. For more information, go to planningportal.gov.uk, a government-run website with advice on planning.
Unless you're extremely well-versed in architects' plans, building, damp-proofing and excavation, you're best off hiring a specialist company to run the project for you – they can sort out building regulations on ceiling height, ventilation and fire escape routes.
And don't forget that neighbours may be anxious about you tinkering near their property foundations: you'll need to keep them updated with what you're doing to comply with the 1996 Party Wall Act.
Reuse content
Source: www.independent.co.uk
Share this Post