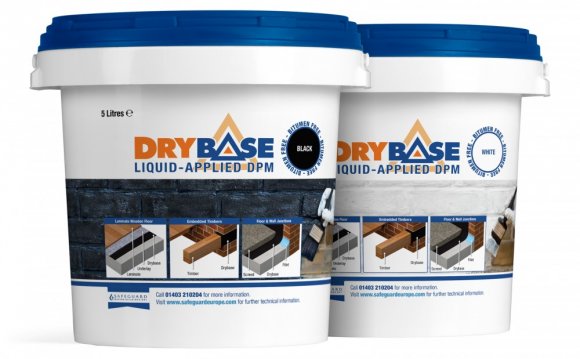 Drybase Liquid-Applied DPM is a single-pack barrier coating that is supplied ready to use. It is available in black or white with a consistency similar to that of thick emulsion paint. The product is applied in two coats.
Once applied, the product cures to form a membrane that is flexible and elastic. Drybase Liquid-Applied DPM is water-based and can be applied to damp substrates by brush, roller, or spray. The applied product is typically touch-dry in one hour.
Preparation
All contact surfaces must be sound, clean and smooth with a trowelled or brushed finish. Any masonry should be flushpointed and defects in existing surfaces made good. Remove any laitance, dust, loose material or surface water.
Priming
No priming is necessary. To assist the membrane in fully wetting out the substrate the background may be dampened. There should not be any standing water.
Test Area
Because of the wide variety of possible substrates and site conditions, it is always advisable to check adhesion to the background by testing on a sample area before starting any job.
Coating and Coverage
The product is applied in two coats by brush, roller or airless spray.
Stir well before use. Care should be taken to ensure that the correct dry coat application thickness is achieved and that the drying time is not unacceptably extended. A minimum dry film thickness of 0.6 mm (1.1 mm wet film) is required to provide a vapour barrier. This should be applied in at least two coats with each at 0.55 litres/m2 in order to comply with CP102:1973, Code of Practice for the Protection of Buildings against Water from the Ground. Always allow the first coat to become touch dry (typically one hour) before applying a second coat at right angles to the first. The first coat should not be allowed to dry for more than 24 hours before applying the second coat. If applying a subsequent screed to Drybase Liquid-Applied DPM, the second coat may be used as a primer for the screed.
Curing
No special curing is required. Application of the membrane should not be undertaken if rain is expected before the coating can dry. Do not apply if the background or air temperature is 7°C or lower. Black Drybase will go on as dark blue, and dry to black once it's cured. If the colour remains blue, then this is an indication that further drying is required.
[1]Dark blue dries to black.
[2]Ref. University of Saarland.
[3]After 3 month soak.
Appearance
Dark blue [1] or white thick liquid
Recipe Type
Water-based
Density
1.0 g/cm3
Size(s) & Packaging
5 litre buckets
Coverage
4.5 m2 per 5 litre bucket
Active Ingredient(s)
Styrene Butadiene latex
Water (Liquid) Resistance
20 metre head (positive pressure)
Water Vapour Permeability
< 4 g/m2/24 hours at 25°C/75% RH following BS 3177
Methane Resistance
10 times more resistant than LDPE
Radon Resistance
Radon barrier at 2 mm thickness [2]
Tensile Strength
4 N/mm2
Elongation at Break
350%
Bond Strength
Fletton Bricks
2.5 N/mm2
Timber
1.0 N/mm2
Concrete [3]
Storage
Keep in dry conditions at a temperature of 5°C to 35°C. Protect from frost
Shelf Life
12 months
Source: www.safeguardeurope.com
Share this Post